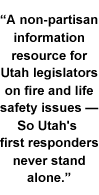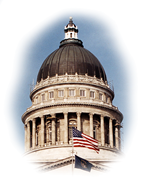 Citizen Safety Without Partisanship

•

Utah Fire Caucus membership is open to all Utah legislators, regardless of party affiliation.

•

Legislators are asked to lend support in a way that best benefits fire departments in their districts.

•

Positions on legislation not required.

•

A resource to help educate and build consensus on fire/emergency services issues.

•

Support provided by the Joint Council of Fire Service Organizations, a broadly based, non-partisan coalition of Utah fire service organizations.

---

News

The 16th Annual Utah Fire Caucus Luncheon will be on Monday, February 3, 2020, at noon, in the Hall of Governors (under the Rotunda on the first floor of the Capitol).
2019 general session:
Monday, January 28 to Thursday, March 14.